We've arrived at that frightening time of the year: the post All-Star Game Dead Zone. And while it's great for the players to take a few days off and see their families, it does leave baseball fans in a precarious situation. Just what are we supposed to do with all our time when there aren't fifteen games in the evening or a fantasy lineup to update until Friday?
I mean, sure, we could go to the gym and we could finally deal with all of that financial paperwork we stuffed into our desks three months ago, but instead of that, why don't we just look back at the ten most wonderful moments from the first half of the season?
10. Position players pitching
Like going to the gym or forcing yourself to eat that giant hamburger so you can get a free tee-shirt, watching a blowout or a game go past midnight offers its own rewards. Beyond the announcers testing out their open mic material, it often results in a manager going to his bench and asking, "So, uhh, does anyone here know how to pitch?"
It's the baseball equivalent of a basketball team going into double-overtime and the coach having to step in for Lebron James or the equipment manager taking over for Tom Brady in the 4th quarter.
But something happened in 2014. No longer was the position player taking the mound such a rarity. Instead, the modern record for position players pitching has already tied last year's mark with fourteen appearances from hitters.(And that's not including two relief appearances from Jason Lane, a Major League outfielder from 2002-2007).
No longer just for absolute blowouts and games in the 14th inning, managers are realizing that if the game has already been lost, why not just go with the guy who was sitting on the bench all day making cat's cradles anyway?
Thanks to those managerial decisions, we've been gifted with a number of different pitchers and pitch types. From Dean Anna's knuckler:
To Drew Butera's 94-mph heater:
As we head into the dog days of summer, we'll have to see if these numbers will skyrocket up or if the threat of pennant races keeps the position players on the field and off the mound.
9. Yasiel Puig's Instagram Account
Listen, I could easily sit here and make a top 30 great moments from Yasiel Puig's 2014. Whether it's the bat flips:
Or just catches that he has no business making and yet somehow does:
But Yasiel Puig's true gift this season hasn't come on the baseball field, but instead on his Instagram account.
Whether he's showing off his singing skills:
Seeing snow for the first time:
Posing with his favorite Transformer:
Or celebrating a home run in a video game:
It turns out, the things that make Puig so much fun to watch on the field also make him great to watch off of it. I can't wait for the future TV show, Hangin' with the Puig. Or Me and the Puig. Or Puig: A Love Story. I dunno, we can figure out the title later.
8. The wild and wonderful Jose Abreu
Beyond winning the lottery or the musical stylings of Frank Stallone, there is little a baseball fan loves more than prospects: The dream of them, the hope and promise of an unknown future. And when it comes to Cuban prospects, the unknown is amplified -- the embargo between the U.S. and Cuba limits the amount of scouting information and amateur video to pass through to the fans at home.
When the White Sox signed Abreu to a six-year, $68 million contract last October, there was plenty of hope. After all, you don't give away enough money to buy 4,500 pairs of diamond contact lenses when you don't think the player will succeed. Still, even if Abreu would one day become a star, no one expected him to come out of the gate like this.
At the break, Abreu is leading the league with 29 home runs and a .630 slugging percentage. While he strikes out a fair amount, as most rookies do, he's not exactly Dave Kingman either, hitting .292 with a .342 on-base percentage. Not only does Abreu have a good chance of becoming only the second rookie to hit 40 home runs in a season, the first since Mark McGwire's 49 in 1987, he also stands a good chance of being the only one to hit 50.
7. Giancarlo Stanton is more than just a homer monster
We all knew Giancarlo Stanton could hit home runs. Through five big league seasons he's already cracked 138 home runs with 20 of them going farther than 450 feet, earning him the nickname "Bigfoot." (Although that could also be because he shows up blurry in all of his photographs.)
But beyond his 21 first-half dingers and this absurd 484-foot shot:
Stanton is so much more. Too often we've focused on the Dinger Beast and ignored the rest of Stanton's game. This season, Stanton has the highest average and OBP of his career (.295 and .395, respectively), has stolen a career high number of bases (a perfect 8-for-8) and pitchers have intentionally walked him a league-leading 15 times.
Not only that, but his defense in right field has been strong as well, leading to catches like this:
Of course, try and take a still photo of Stanton, and this is all you'll see: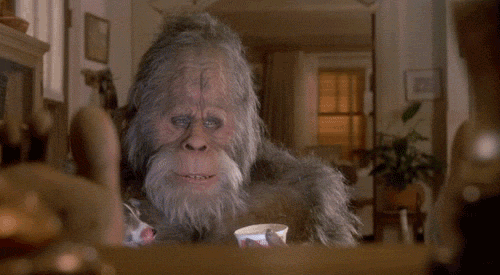 6. Troy Tulowitzki is a mountain imp
Baseball is supposed to be about failure. I guess no one told Troy Tulowitzki.
Not only is Tulowitzki hitting damn near anything to the tune of .345/.435/.613 line with 21 home runs (all National League-leading totals, by the way), but apparently there was a Denver-area ordinance passed where it's illegal to get him out at Coors Field. When playing in front of the Rocky Mountains, Tulo is hittng .417/.497/.748. As a shortstop.
The only players with a higher home split in the history of the sport? Barry Bonds and Babe Ruth. So that's pretty good company to keep.
Because those numbers are so absurd, here is the only way for a human to visualize Tulowitzki's performance (courtesy of our own Mike Bertha):
5. Albert Pujols hits No. 500
Seemingly carved out of marble, Pujols played like a Greek God between 2001 and 2012, averaging an insane .325/.414/.608 line with 40 home runs and 120 RBI per season. Unfortunately, like us mere mortals, age and injuries soon caught up with Pujols, who struggled in 2013 (while still posting an above-league average OPS. This is still Pujols we're talking about).
This season, Prince Albert has returned to form, hitting 20 home runs in the first half with a 129 OPS+ at the age of 34.
His best came on April 22nd. Sitting on 498 home runs, Pujols decided he didn't feel like waiting, knocking out 499 and 500 against the Nationals in one game. It was the 43rd time in his career he had a two homer game. (A few weeks later he'd do it again, knocking out two against the Rays' David Price).
At this rate (let me get out my calculator), we'll be celebrating #1,000 in 2027. Wait is that right? I think that's right. Book your tickets now, I guess.
4. The Oakland Athletics are on fire
Billy Beane's ability to identify talent and market inefficiencies is legendary, his charm and charisma are seemingly crafted from a Dungeons and Dragons character sheet and scientists think his teeth are so radiant they could provide life-giving light and warmth to a planet.
Despite a run of success almost unmatched for a team with the Athletics budget over the last 13 years, the 2014 Athletics may be his masterpiece. Going into the break, the team sits at 59-36, good for the best record in baseball.
And the Athletics are doing it thanks to contributions up and down the lineup.
Brandon Moss and Josh Donaldson have 21 and 20 home runs, respectively, with Donaldson hurling himself into tarps along the way:
Yoenis Cespedes provides pop, pizzazz and a cannon for an arm:
Oh yeah, and another Home Run Derby championship.
Coco Crisp is arguably having the best season of his career at the age of 34, hitting .291/.387/.449 with 16 stolen bases.
And John Jaso and Derek Norris are not just the best catching tandem in baseball, but they'd make a pretty great TV detective pair. (Norris, obviously, is the bad cop with that killer mullet.)
And that's before we even get to the pitching where Jesse Chavez came out of nowhere to post a 3.14 ERA; Scott Kazmir has continued his resurgance with a career-best 2.38 ERA and 2.1 BB/9; and in his first full Major League season, Sonny Gray has proved dominant with a 10-3 record and 2.79 ERA.
And then there's Sean Doolittle whose facial hair is dwarfed only by his amazing control, his 63/2 K/BB rate a Major League record.
Of course, Beane wasn't content with all of that -- he wants a ring. So on July 4th, while everyone else was out grilling meats and watching things explode, Beane traded top shortstop prospect Addison Russell, outfielder Billy McKinney and pitcher Dan Straily for Jeff Samardzija and Jason Hammel, giving the A's plenty of insurance should any injuries or ineffectiveness spring up.
But even with this deluge of talent in Oakland, it's not going to be easy. A few hours south there are the Angels who have a few players you may have heard of: Like Albert Pujols (see above) and Mike Trout (see below). With only 1.5 games separatingthe clubs, we'll have quite the race to look forward to when the games start back up on Friday.
3. The return of the base stealers
Long thought extinct and forgotten, like the dinosaurs or Hi-C's Ecto Cooler, the base stealers have returned. Since 1988 when Rickey Henderson swiped 93 bases and Vince Coleman stole 81, there hasn't been a player to steal 80 bags. That could change this year thanks to three players: Billy Hamilton, Jose Altuve and Dee Gordon.
Long before he reached the Major Leagues, Billy Hamilton was a base stealing legend, swiping 103 bags in 2011 in Class A and an absurd 155 in 2012 between two levels. And while he won't be stealing 100 in his rookie season, he's stolen a very impressive 38 going into the All-Star break. Though he's been caught a league-leading 15 times, as Hamilton learns pitchers better and knows when to push for the advantage, we could see his totals jump up in the second half. You know, jump. Like this:
In Houston, an unexpected name has popped up to lead the American League with 41 steals: Jose Altuve. While his first three seasons were respectable (always with the caveat "especially for someone his size"), at the age of 24, Altuve is leading the league with 130 hits and 41 stolen bases.
Even better, he's only been caught three times for an absurd 93% success rate. The record for success rate by a player with more than 50 steals in a season belongs to Jacoby Ellsbury who stole 52 bases at a 92.8% clip in 2014, a number that Altuve could break if he keeps on running.
And then in Los Angeles, Dee Gordon has been like Linka from Captain Planet -- you know, he possesses the power of wind. Elected to his first All-Star game, Gordon leads the Major Leagues in stolen bases with 43 (not to mention in triples with nine), as his legs have helped catapult the Dodgers back to the top of the NL West.
Last year's league leaders were Eric Young, who stole 46 for the NL, and the previously mentioned Ellsbury who stole 52 in the AL. Something tells me those numbers are going to pale in comparison to this season's leader. Just be glad it's not 1950 though when Dom DiMaggio led the AL with a woeful fifteen steals.
2. Mike. Trout.
One of the worst things about being a human is that we grow accustomed to things. That new relationship, the one that made us so giddy a few weeks ago, soon becomes the boring old routine. Baseball fans are no different. We're always on the lookout for a new breakout player and so we don't truly recognize the greatness that we have at this very moment.
Don't take Mike Trout for granted. Please. I beg you. Because there will come a time later in Trout's career when his bat slows a touch and maybe his knees are a little balky and you'll wish you spent more time appreciating him.
Like the fact that in only his third season, at the age of only 22, Mike Trout is doing what he's done twice already. Which doesn't sound like much until you remember, oh right, he does literally everything. This year, though, Trout has added a small wrinkle, adding a little bit more power into his .310/.400/.606 batting line. That's amazing.
He's already hit the longest shot of this, or last, year on a 489-foot bomb:
And hit his first walk-off home run:
And his second:
Though his steals are down, he's still a perfect 10-for-10. And he's still making catches that befuddle onlookers and anger batters:
So please. Please. Don't take him for granted.
1. The No-Hitters
Baseball is a fundamentally odd game. Unlike other sports that involve moving one way or another over the field, baseball is like a giant Rube Goldberg device populated with human beings.
And because of its oddness, beautifully weird things happen. Like position players pitching. Or Hunter Pence. Or, best of all, no-hitters. A no-hitter not only combines oddly chaotic events, but it's mixed in with the great skill of a pitcher who has spent his life devoted to throwing a small round orb into a small brown mitt.
First was Josh Beckett, outdueling the Phillies and ending it all by striking out potential Hall of Famer Chase Utley:
And then Clayton Kershaw (otherwise known as the most dominant force on the planet besides gravity) threw his first, Vin Scully getting to call this one:
Of course, the no-no was only a small part of his dominant season. Since the start of June, Kershaw's gone 8-0 with a 0.74 ERA in 61 innings, including a 41-inning scoreless inning streak.
And finally we got to see Tim Lincecum pick up his second no-hitter within a year against the very same San Diego Padres. Even better than the no-hitter was the celebration afterwards.
Which certainly made his manager very, very happy.
What will the second half bring? What new excitement awaits? Be sure to eat your vitamins and get plenty of rest, because you will be spending a lot of late nights staring at your TV for the next few months.